solar simulator
Indoor light simulator YILS series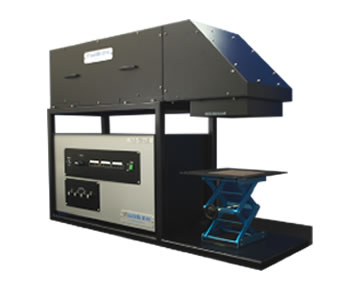 Indoor light simulator for evaluating characteristics of indoor application devices such as organic solar cells and various sensors with high precision under LED lighting. It is possible to evaluate output characteristics conforming to JEITA standard ET – 9101 *.
By adopting a special optical system (jointly with the National Institute of Advanced Industrial Science and Technology: Japanese Patent Application No. 2016-118456), the light color (Daylight color, Natural white ,Warm white) of the LED lighting and the indoor brightness of the room are reproduced, it will irradiate the device with parallel and highly uniformed light. The irradiation light stabilizes promptly after lighting, and light with extremely small fluctuation can be used.
Various indoor lighting environments can be simulated by continuously variable brightness and light color switching function (option). With a controller that can be fine-tuned, we realized continuously variable brightness and light color with high reproducibility.
* JEITA standard ET – 9101: Industry standard published by the Organic Solar Cell Standardization Group of the Nanoelectronics Standardization Special Committee of the Japan Electronics and Information Technology Industries Association and issued in 2016 3 years.
有効照射面積
156mm角 (6インチ角)
照度
200ルクス~2,000ルクス(単光色、連続可変)
光色
昼光色、昼白色、電球色(いずれかご選択)
照度の均一性
±2%~±3%以内 (156mm角内)
平行光
平行度半角3°~ 5°以内
光安定度
±0.2%/時以内(安定後)
コントローラにより照度連続可変(照度を変化させても相対スペクトル分布と均一性の変化は微少です)
オプション
有効照射面積
156mm角以上
高照度、低照度
複数光色による光色切り替え、光色合成照射
外来光遮断カバー
JIS C1609 AA級一般形精密級照度計
IV計測装置
恒温槽一体型