Surface defect inspection system
High magnification surface defect inspection system (magnifying magic mirror)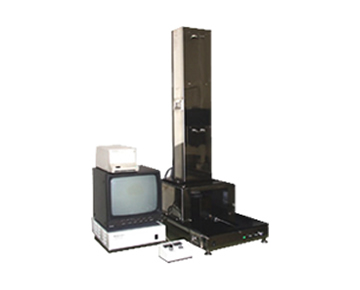 It is a high magnification inspection device of YIS series and displays a field of view of 10 mm on the monitor. It is widely used especially for inspection of slip lines occurring after epi processing. It is also effective for surface inspection of hard disks and optical polished parts. The detectable sensitivity is 50 times magnification of the Nomarski microscope.

It instantaneously expresses all the surface condition.
Optical system corresponds to Class 1.
The optical system is maintenance free.
Detection sensitivity change is possible depending on inspection contents.
| | |
| --- | --- |
| Inspection size | φ 100 mm to φ 300 mm from each model |
| Inspection content | Flatness, dimple, mound, saw mark, orange peel etc. |
| Inspection magnification | 1/3 times mode switching (standard equipment) |
| Detection sensitivity | Continuous detection sensitivity variable |
| Used light source | 550 nm (constant illuminance stabilized light source) |
| Camera | high resolution CCD camera |
| Stage | manual stage (standard specification) |
Utility
Surface inspection of specular wafer
Inspection of slip line
Inspection of glass substrate
Inspection of other specular substrates
Option
Motor driven test stage
Automatic defect determination image processing device
Image printer
Transport mechanism
※ 常時、弊社にてデモンストレーションが可能です。
※ サンプルをご送付頂き、検査結果をイメージコピーにてご返送することも可能です。