Surface defect inspection system
Surface defect inspection system (normal type)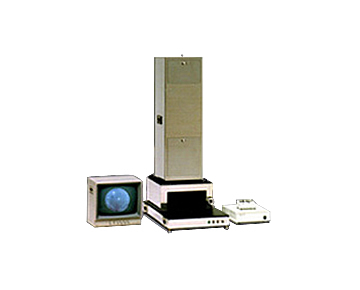 It is a system that can inspect the surface condition of specular planar substrate instantaneously with ultra-high sensitivity, applying the principle of a magic mirror transmitted from long ago, and is used by silicon wafer manufacturers all over the world. The inspection can be done non-contact / nondestructively, and the optical system is maintenance free. Optionally, automatic judgment of surface defects It is possible to add functions such as image processing / automatic conveying mechanism / image storage / image printing.

It instantaneously expresses all the surface condition.
Optical system corresponds to Class 1.
The optical system is maintenance free.
Detection sensitivity change is possible depending on inspection contents.
| | |
| --- | --- |
| Inspection size | φ 100 mm to φ 300 mm from each model |
| Inspection content Flatness, | dimple, mound, saw mark, orange peel etc. |
| Inspection magnification | 1-3 times mode switching (Standard feature) |
| Detection sensitivity | Continuous detection sensitivity variable |
| Used light source | 550 nm (constant illuminance stabilized light source) |
| Camera | high resolution CCD camera |
| Stage | manual stage (standard specification) |
Utility
Surface inspection of specular wafer
Inspection of slip line
Inspection of glass substrate
Inspection of other specular substrates
Option
Motor driven test stage
Automatic defect determination image processing device
Image printer
Transport mechanism
* Demonstration is always available at our company.
* Sending the sample, it is also possible to return the inspection result by image copy.