Fiber light source
UV spot light source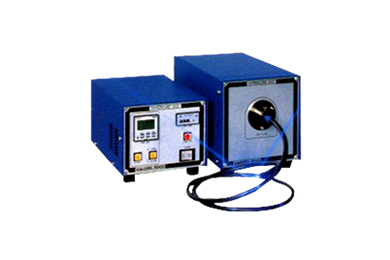 It is a light source to cure and dry ultraviolet curable resin ink etc.
Since the lamp uses a high-power mercury xenon lamp and the IR wavelength is cut, it does not give rise to heat rays to the object to be irradiated. External optical axis adjustment is possible without lighting the lamp, for optical axis adjustment of lamp exchange. 200 W standard model

Alignment at the time of replacing the lamp is safe as accurate
light amount adjustment can be performed without turning on the lamp.
Since the elliptic mirror uses UV multilayer coating,
heat rays are cut as much as possible.
Bandpass filter (option) can be used to select the irradiation wavelength.
When replacing the lamp, the optical axis adjustment is
easy to adjust safely without turning on the lamp
By using a uniform exposure lens unit (option), it becomes UV exposure light source.
| | |
| --- | --- |
| Irradiation wavelength range | 230 nm to 420 nm (when quartz light guide is used) |
| UV irradiation intensity | 2000 mW / cm 2 or more |
| Specification lamp | Mercury xenon lamp 200 W |
| Shutter control | Manual · timer · external contact |
| External output | Lights on / off – Shutter control |
| Signal output | Lighting confirmation · Lamp stability |
※強度は、石英ファイバーφ5mm, 長さ1m に於いて、照射距離 10mm位置での強度です。
※強度の異なるUVスポット光源をご希望の場合は、ご相談ください。
※254nm, 313nm, 365nm, 405nm, 436nmの各波長に対応します。
オプション
| | |
| --- | --- |
| | 均一照射レンズ付 均一照射レンズユニットを使用して、照射面に均一な紫外線を照射します。照射面積は、□30mm, □50mm, □75mm があります。 |
| | 均一照射レンズ ファイバーから出射された光束を均一な光で照射できます。 照射イメージは、四角形と六角形があり、それぞれが照射位置(照射面積)に於いて光のピントを調整できます。 |
波長選択フィルターを使用することにより、照射波長を選択することもできます。