Fiber light source
Z-Cure UV-IR spot light source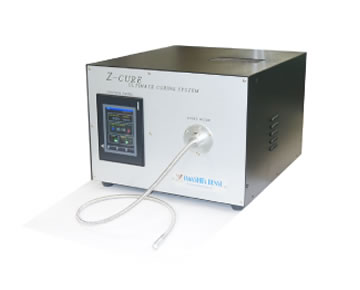 The ultimate curing system. No surface tack with surprise single exposure! Ultraviolet irradiation UV curing and infrared irradiation curing are possible with one unit (Patent Registered No. 6108257) Easy recipe creation for irradiation wavelength, light quantity and irradiation time control with touch panel All-round player ideal for research and development · mass production line.

UV, IR, UV-NT, manual, auto selective irradiation of three types of light
Surface tack removable with single exposure. First adopted special light (UV-NT)
Easy program setting allows anyone to control the
irradiation wavelength, light quantity and irradiation time
Light intensity can be steplessly adjusted from maximum
Irradiance to 0 illuminance (with Irradiance display function)
Touch panel greatly enhances operability / versatility
Optical axis adjustment is unnecessary when replacing
the lamp, shortest downtime, strong ally for the field
Irradiation wavelength
Three wavelength bands of UV, IR, UV-NT
Irradiance
Continuous variable
Irradiated area
Φ3 mm to φ 10 mm (Option: Change irradiation diameter by changing lens unit)
Irradiation time
Optional setting
Touch panel, shutter function, quartz fiber 1 m (standard)
Luminometer for output calibration (option, please contact us)
* We will manufacture irradiation wavelength area, irradiation area, fiber length etc according to your request.


Utility
Curing step without surface tack
Micro / microspot thermal curing
Adhesion of metal – metal, metal – glass
Fixed inside of parts by IR
Adhesion where ultraviolet rays can not be used
Step of using all resin curing of UV curing / heat curing / hybrid curing resin